After a long day at work, there is nothing better than coming home to unwind in your living room. We take great pride in creating luxury retreats that are tailored to your style and comfort. Whether you are looking for bespoke furniture from Wunders or Craft Furniture, or if you are looking for imported Italian furniture from Valcucine or Eurocasa, we have a wide range of furnishings on offer. Spotlight Joinery are experts at creating unique living joinery solutions that compliment your design aesthetic through a variety of products from integrated storage to wall cladding and storage options.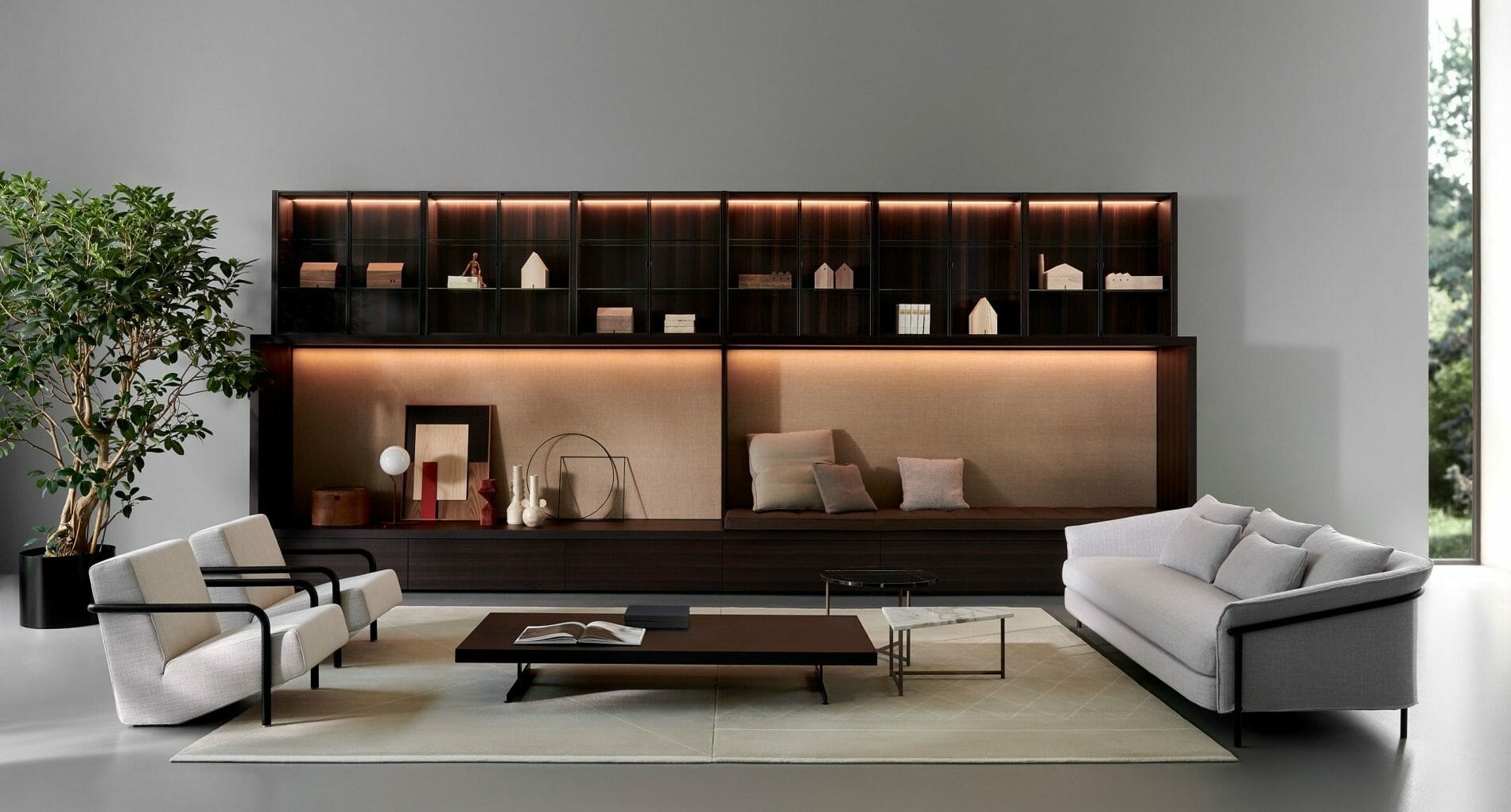 System
The versatility of the System programme allows for the home and the office to meet individual needs of the client. Personality, lifestyle and inclinations are all at the epicenter of the space design. System can be used as a bookcase or an office area and is the perfect solution to dividing rooms. 
View More
1 of 3
Kite Sofa
The sofa is composed of a metal frame in a black of brown ombra and an enveleoping backrest with flexible armrests and a seat cushion.
View More
2 of 3
Lullaby Chair
Revealing sophisticated details behind it's apparent simplicity. Available in soft fabric, leather or ecoleather.
View More
3 of 3
Luke Sofa
This streamlined design is a Wunders classic. It features a powder coated steel base and thin profile legs with loose base and back cushions.
View More
1 of 4
Fluted Ottoman
Fully upholstered with a stitch seam and panel detailing. This ottoman's legs are hand carved out of light oak. 
View More
2 of 4
Penny Low Armchairs
An elegant design, these armchairs have a thin profile with sloped arms secured on a powder-coated black steel frame.
View More
3 of 4
Rhumba Bar Stools
Where soft curves meet straight lines – the Rhumba Bar Stools are fully upholstered plush seats with modern light oak frame and legs.
View More
4 of 4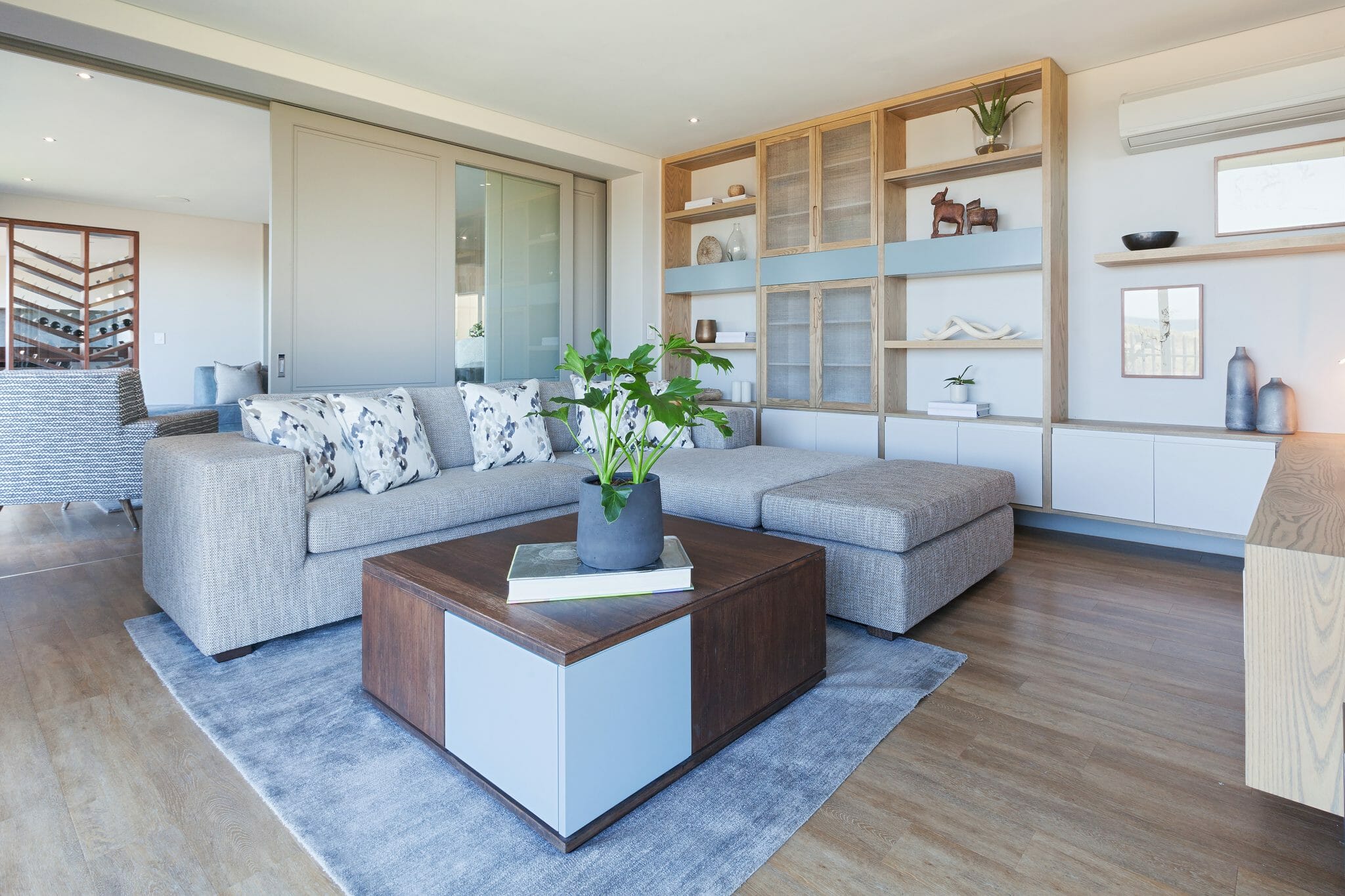 Living Display Case
The TV unit is equipped with storage below a beautiful Solid Ash Grey display case that features integrated lighting.
View More
1 of 3
Custom Wine Rack
The contemporary design has been custom made with American Walnut in collaboration with Craft Furniture.
2 of 3
Bespoke Coffee Table
The coffee table is made with a beautiful caramelised Solid Bamboo featuring Duco elements.
View More
3 of 3
Slatted Timber Screen
This design adds a textural feature to the media room made from slatted Prime Oak and has been completed with a natural finish.
View More
1 of 4
Oak Wall Panel
The oak veneer panel has a solid edge backing that has been set forward to include LED backlighting.
View More
2 of 4
Media Unit
The floating unit has been constructed with a storm grey carcass and grey mirrored fronts to the storage and housed in solid Prime Oak.
View More
3 of 4
Clustered Coffee Tables
A custom coffee table design featuring tables with glass legs that have been UV bonded. The tabletops feature solid Prime Oak, marble and grey mirror.
View More
4 of 4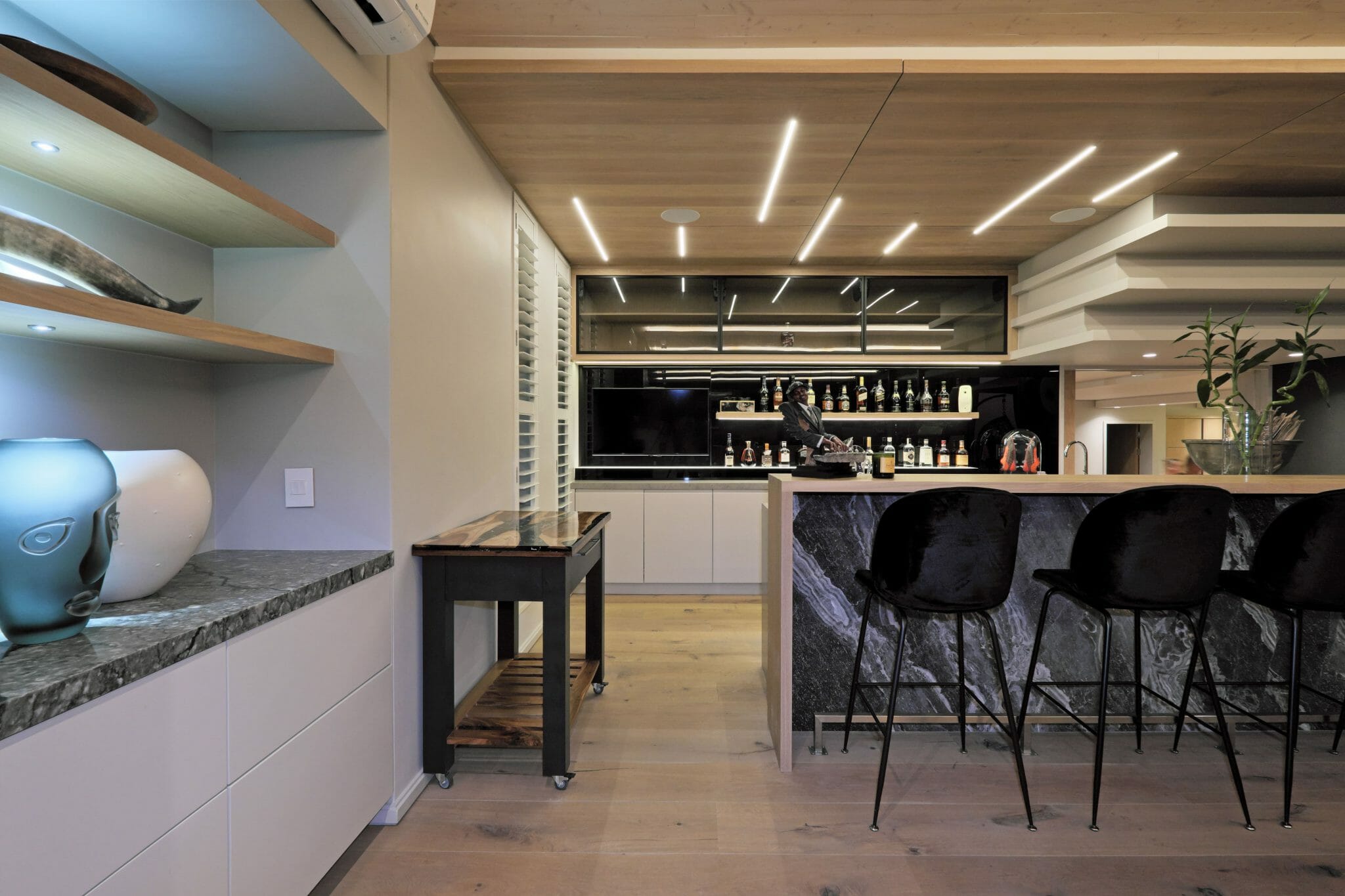 Wooden Shelving
Extra storage was added to the space with the inclusion of Solid Oak shelving with integrated LED downlights.
View More
1 of 3
Bespoke Entertainment Area
The entertainment area features Vogue glass doors against Oak veneer display cabinetry. The glass elements are replicated in the black glass splashback by Cohesion that is highlighted with a lightbox placed below. 
View More
2 of 3
Solid Oak Bar
The bar was completed with a subtle Solid Oak surround made by Craft Furniture.
View More
3 of 3
Mac Sofa
This sofa is sophisticated and easy to style with a naturally finished pale oak base. This collection promotes slow living.
View More
1 of 3
Mac Easy Armchair
This chair has a loose back cushion and flange seam details with a naturally finished oak base. 
View More
2 of 3
Mac Coffee Table
A classic silhouette, this table has a pale oak or marble top option. Similarly to the rest of the Mac Collection, it has natural timber finish.
View More
3 of 3
Bar Table
This tall table is the perfect addition to the bar area. It has been constructed with Ferrograin steel, a stone top and Rustic Oak legs.
View More
1 of 2
Oak Shelves
Additional storage has been added to the space with Rustic Oak shelving.
View More
2 of 2
Modern
This programme is a sectional container system that is flexible through its various configuration opportunities and range of different finishes.
View More
1 of 3
Curry Sofa
The solid wood structure has intentionally exaggerated proportions. The cover is available in leather or fabric and is fully removable.
View More
2 of 3
3 Table
The cluster of tables is made up of three tables with different tops; one square, one round and one oval. All of the tables are connected through hidden chains and available in different finishes.
View More
3 of 3
Our Companies as Featured above